ELUMEN
ELUMEN TREAT / ELUMEN WASH / ELUMEN RETURN / ELUMEN CLEAN
ELUMEN LOCK / ELUMEN PREPARE / ELUMEN CLEAR / ELUMEN CARE / ELUMEN HAIR COLOR
HIGH PERFORMANCE HAIR COLOR OXIDANT-FREE
Your client
…would like a shining hair color without too strong contrasts.
... would like a color play of various shades and strong contrasts.
... would like natural coverage of white hair without changing her type.
... would like a brilliant, shining, refined blonde tone and a nurtured hair feeling.
... would like new radiance and brilliant shine for her hair color. Without color change and without showing the roots.
GOLDWELL ELUMEN IS A HAIR COLOR THAT ELUMINATES THE HAIR INTENSIVELY FROM INSIDE OUT TO ACHIEVE INTENSE, PEERLESS RESULTS FOR COLOR PROFESSIONALS:
• Intense and brilliant color results
• Exceptional shine
• Remarkable and incredible durability
• Amazing, healthy looking hair
UP TO 76% MORE COLOR INTENSITY COMPARED TO OXIDATIVE PERMANENT HAIR COLORS¹Color remains strong even after 10 shampoos:

Elumen

Conventional Oxidative Color
UP TO 37% MORE SHINE COMPARED TO INTENSIVE DEMI-PERMANENT HAIR COLORS²Elumen is ammonia-free, non-oxidative and gentle for the hair.

Elumen

Conventional Oxidative Color

Virgin Hair
(1) Based on a Chroma measurement compared to representative shades of competitors oxidative colors.
(2) Based on a Shine-measurement compared to representative shades of competitor's demi-permanent hair colors.
ITS REMARKABLE TECHNOLOGY MAKES ELUMEN A PHYSICAL COLOR, WHICH MEANS THAT IT WORKS ENTIRELY WITHOUT OXIDIZING BUT STILL ACHIEVES SPECTACULAR AND LONG-LASTING COLOR RESULTS.
Magnet Effect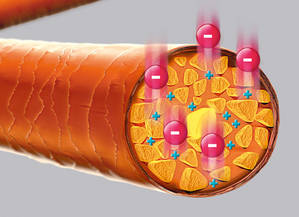 A coloring process that eclipses conventional technologies: the Elumen magnet-effect creates a new dimension of intensity and durability. Intensive Elumen pigments are physically drawn deep inside the hair where they are anchored securely to produce amazingly intensive and remarkably long-lasting color results.
Repair Effect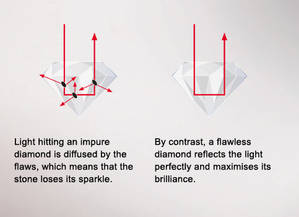 More than just a color: the Elumen repair-effect creates immaculate brilliance and shine. Like an impure diamond, porous areas of the hair diffuse the light making the hair appear stressed and dull. Elumen fills the porous areas inside the hair and improves the hair structure to reflect light perfectly.