NECTAYA ENRICHED NATURALS
BEAUTIFUL WARM AND COOL SHADES FOR PERFECT GREY COVERAGE
AND SMOOTH HAIR FEEL
MORE THAN JUST 100 % GREY COVERAGE.
OFFER YOUR CLIENTS A COLOR SERVICE THAT IS NOT ONLY COVERING THEIR GREY BUT ALSO ADDRESSING THEIR SPECIAL HAIR STRUCTURE NEEDS WHILE BEING AS GENTLE AS POSSIBLE TO THE HAIR.
THE GOLDWELL COLOR BALANCING
For balanced mid-lengths and ends.

(1)
Treat the uncolored regrowth with Nectaya Enriched Naturals.

(2)
Apply Colorance @Elumenated Naturals to freshen up the color of mid-lengths and ends.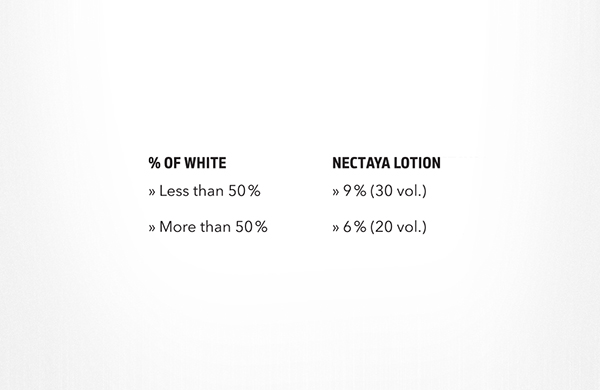 SPECIAL TIPS

• All Nectaya Enriched Naturals are intermixable and suitable for all color services and techniques

• To prevent delusion in color, mix Nectaya Enriched Naturals only amongst each other
(do not 
mix with shades from the rest of the Nectaya range)

• Remember to measure Developer Lotion first and then add the color mass

• When performing a Color Balancing service always use Colorance Cover Plus Lotion with
Colorance @Elumenated Naturals shades
SMOOTH HAIR FEEL WITH UP TO 100 % GREY COVERAGE FOR YOUR CLIENTS
YOUR CLIENTS' WISHES:

Gentle but at the same time reliable grey coverage with improved hair look and feel

YOUR SERVICE RECOMMENDATION:

Nectaya Enriched Naturals shades provide a perfect solution to clients looking for
up to 100 % grey coverage, natural smooth hair feel, manageability and brilliant shine
SERVICE UPGRADE
Elevate your clients' salon experience and grow your salon business by
offering them the Volume Boost Service ― for enhanced fullness and healthy shine.

BACK TO OVERVIEW